Confetti Farms Foals of 2010
March 25, 12:45 am
Bay filly, spots over hips.
Sire: Butterwap Confetti "Oreo" 16.2h Appaloosa
Dam: Grace 16.1h Oldenburg Warmblood
photos at birth
Photos at 28 days old! This filly is an incredible mover
For Sale @ Confetti Farms
SOLD
---
Congrats to Michael Muir and Access Adventure on this beautiful colt!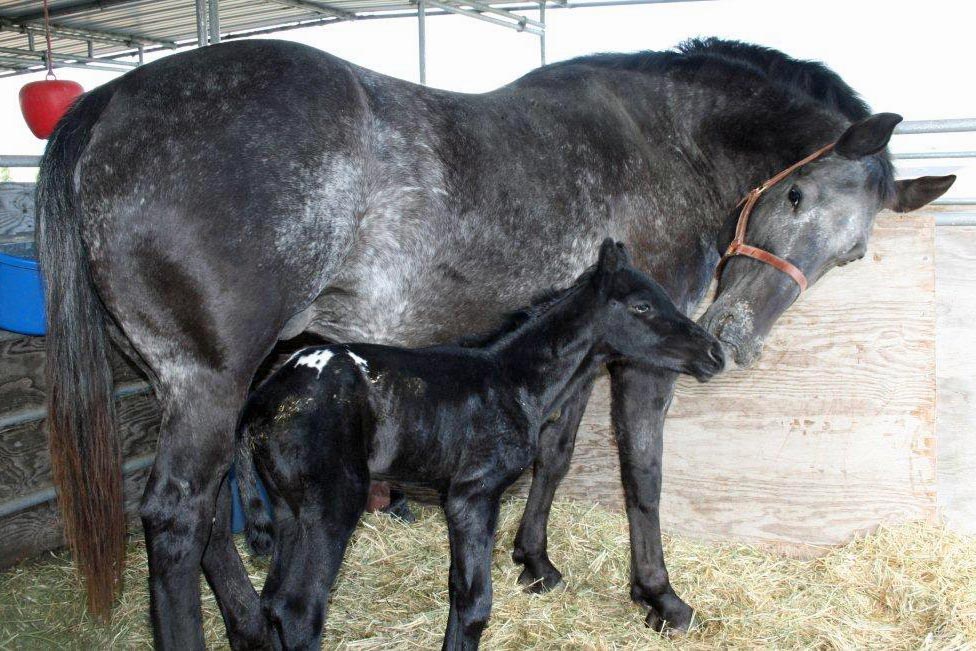 Belle and "Biscuit"
Mike's (58th!) birthday was celebrated on March 18th with a special surprise, or should we say "special delivery". Our first foals are due to arrive beginning April 2, with the mare Stonewall Bonnie Mae third in the line-up, due April 10. Apparently, she didn't want to wait, or thought there might be some cachet in being first. In any case, three weeks early, and just in time to add the icing to Mike's birthday cake, Bonnie delivered a stunning black and white colt. It was touch and go at first. The little fella was not too strong. With a few assists to get to the milk bar (and Bonnie's bountiful supply) he quickly gained strength and is now up and running under his own power.
---
Just wanted you to know that your boy has done it again! Give Oreo extra love tonight, he did good.
At 7 am Venus dropped a loud leopard colt, and he is big and healthy!
And this one is for sale, If you know anyone interested in him.
2010 Colt out of Shesa Glowin Zipper by Butterwap Confetti
---
April 22, 2010 9:45pm
Sire: Butterwap Confetti
Dam: Pinjara 16.2h Oldenburg Warmblood
For sale @ Confetti farms
sold
Huge near leopard colt
---
Sire: Butterwap Confetti sold
Dam: Jobot Dutch Warmblood by Rubenstein 17.1h bay mare
Elegant bay filly with a small hip blanket.
This filly is the whole package, if you are looking for a show prospect with a future in breeding, you can't get much nicer than this!
Full brother Rikki Tikki Tavi is winning as an Eventer with Jenny Brannagan and training with Phillip Dutton.